I am happy and pleased to share with you some
exciting plans about a One Year Solitary Retreat.
Friends, family, neighbors, students, and the woman
in the supermarket checkout line have asked,
what on earth are you planning to do and why?
How are you able to do this?
Others say, I wish I could do that too.
And some have said,
how can I help or support you?
I hope that these pages may
begin to answer some questions
for you and help you to learn
about this 'not-so-radical' idea.

I have done solitary retreats for the past eight years (Thailand, Wales, Mexico, Java, and Bali) but never one of twelve months. "The more I researched such retreats, the more I learned that historically they are found in many religions and practiced by both religious leaders and secular thinkers — from Buddha to Christ to Henry David Thoreau of Walden Pond in nearby Massachusetts." I learned that there have been many who have gone to the hills, at some time in their lives, to live away from society, to listen, to reflect and to meditate.

Since I was a teenager, the idea of such a retreat has captured me, though I didn't have the words. While I live alone in a small cottage in the New Hampshire woods, I am still involved daily in teaching, organizing workshops, helping friends, planning trips, running errands, assisting at the Center, and staying in touch. I wondered what would happen if all this stopped and I was alone for a year with my meditation cushion? Would there be benefits? Would it be hard? Would my family be okay? Would I miss many things? What?

It is my great hope that I might share this deep longing with others and that it might be of benefit in some way. So I will share what I can, here, with you. May you be well.

Please join me on Facebook to hear more about this ongoing journey.

Kiranada

---

$18.95 Plus shipping
$3.99 to continental USA


A Year of Silence: Solitary Retreat in the New Zealand Wilderness is a new, soft-cover 384 page book with glossary/ references, 14 black and white photographs and a map, available by US Check or PayPal transfer at $18.95. Inner reflections on loneliness, isolation, fear, patience, confidence,joy, and positivity fill the pages of the daily journal Kiranada kept. She dealt with limited food, cold, elemental storms bubbling up from Antarctica, night visits by local possums and an infestation of lice, all while in silence. Following the Tibetan retreat dictum "If you're sick, you're sick. If you die, you die" KIranada promised herself to not come out, and, in the end, discovered a blossoming of deep open-heartedness that she shares with grateful audiences.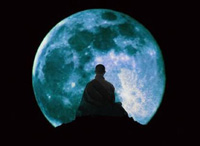 Kiranada left the Full Moon of New Hampshire in summer 2014 and flew to a New Zealand winter to live alone in a small hut in silence for a year.
Kiranada — 'she who radiates
the light of the Bodhi moon'
is ordained in the
Triratna Buddhist Order.
www.aryaloka.org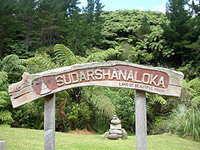 Sudarshanaloka
Land of Beautiful Vision
www.sudarshanaloka.ning.com/‎
Listen as Kiranada describes her retreat
on Vimeo
on Youtube (New version)
---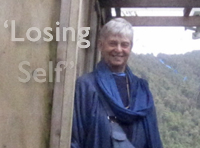 Article by Kiranada
Exploring the Connection
Between Art and Meditation
Published in Vajra Bell
Spring Issue 2016
View as pdf
---